http://blog.naver.com/korea_brand/10120391749
Starting from the North to the South, whole place is changing its color as it gets closer to the end of autumn. Autumn leaves turn red when the weather gets cold, so mountainous Gangwon-do become the first place of autumn leaves. When you look down from the sky, leaves descend to the South and finally stop at Jeju island.
Shall we move on to the South?
Foliage Trip to Mt.Palgong
Mt.Palgong, which is located in Daegu, is always popular among many people. You don't need to spend much time and money to enjoy the autumn leaves. The mountain is said to be the most beautiful in late October.
Trip to autumn leaves starts at the entry to the Mt.Palgong. 1,300 gingko trees are lined up along six kilometer long road between Gongsan tunnel and School, which is very popular car driving course. Going down the road after tunnel, you will be amazed at gingko trees. It is fantastic to see golden wave of gingko trees.
When you turn to Dongwha temple at Baekan intersection, you'll meet the line of gingko trees. After passing by school, you'll meet maple trees. It is simply beautiful.
Plus, Mt.Palgong belt way is very popular among drivers for the beauty of its maple trees. The whole mountain is full of red color when the fall reaches its peak. You'll definitely be amazed.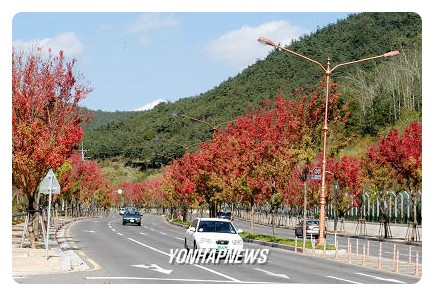 (Source:Yonhap News)

Hiking is the best way to enjoy the autumn of Mt.Palgong. There are many hike ways in the mountain such as Buin temple road, Gatbawi road and Dongwha temple road. Some buddhists pray toward Buddha statue at Gatbawi. This buddha statue was made in Shilla dynasty and became known as praying site for education, health, occupation, and baby boys. Many people come to this site to pray for their own wish every day.

Trekking to the Autumn of Mt.Jiri

Mt.Jiri is the second highest after Mt.Halla of Jeju island. This mountain is huge. There are so many famous and beautiful sites in the mountain. Autumn leaves of this mountain are as beautiful as other mountains.

Autumn leaves start to turn red in late September at Mt.Jiri. It is not well-known but you can enjoy autumn leaves earlier than any others in southern part.

Foliage of Mt.Jiri will start in 5th of October at Cheonwang peak, about 15th at main line, between 20th and 25th at Pia valley and three or four days later than Pia valley at Baemsa valley. If you want to get the most beautiful scenery, you should go up to Cheonwang peak. The most beautiful hike way is between Sesok and Chunwang Peak.

Cho-Sik, a scholar of Joseon dynasty, said "Don't tell anybody that you've seen foliage without seeing the foliage of Pia valley. Foliage of Jikjeon is one of ten beautiful sceneries in Mt.Jiri. Pia Valley is famous for hike way of foliage. Foliage hiking in Pia valley starts at Seongsamjae and continues to Nogodan and descends to Pia valley or moves forward to Baemsa valley. This hike way has so beautiful scenery that many people take this way.

Foliage in Baemsa valley is as beautiful as Pia valley. Pia valley is famous for foliage whereas Baemsa valley is famous for valley itself. Baemsa valley is nine kilometer long and colorful leaves harmonize with that valley. Foliage spreading from Banseon complex to Ganjangso is regarded as the most beautiful scenery in Baemsa valley.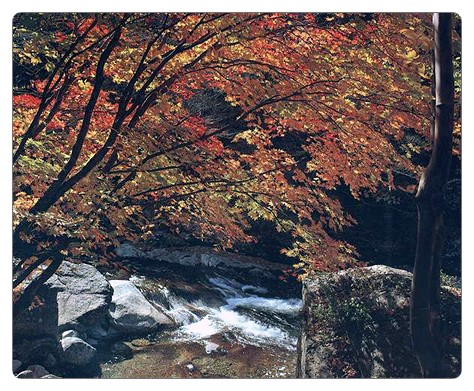 (Source: Korea Tourism Organization)

There are some other foliage sites to see in Mt.Jiri. Various hike ways have been developed since long time ago. Shall we take a trip to Mt.Jiri?

Mt.Dyuryun, the Harmony of a thousand years history and the beauty of the Mountain

Duryun mountain, which is located at the southernmost peninsula, is full of evergreen broadleaf and deciduous broadleaf. There are some national treasures such as Daedun temple, Pyochung temple, the bell of Tapsan temple and so on.

Duryun mountain is well known for camelia and foliage. The valley is two kilometers long from the group facilities complex to the temple. The latest foliage, regarded as one of the most beautiful autumn scenery, can be seen there.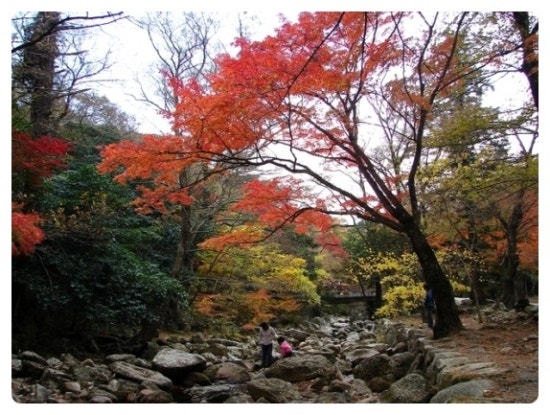 (Source:Daeheung Temple Wesite)
The best scenery of this mountain is a maple tree forest of the way to Daehung temple. Take a walk through the temple gate. You'll refresh yourself. Maple forests and camellia can be seen. Trees are like tunnel. When you cross a bridge, there is tunnel of maple trees.
Let's walk through the yellow and red gingko trees and maple forest and keep going up along the car road. Mountain is covered up with yellow and red wave. Crossing valley and bridge, you'll meet Youseondang and backdrop of foliage which are the highlight of the journey. The last of the journey is the road up to Daehung temple.
Maple Leaves of Mt.Halla, the Southernmost of Korea
Foliage of Mt.Halla in Jeju island is not as well known as other sites. The famous sites are Wanggwanneung, Mansae hill, road between Youngsil rest area and Byeongpung rock area, road 1100 and 516. In particular, uniquely shaped 500 rock pillars stand at Youngsil rest area and Byeongpung rock area. The area is probably the most beautiful site.
Youngsil of Mt.Hallan is easy to access for all walks of life. Youngsil course starts at pavilion. Road to Youngsil is flat, however, the pine trees and maple forests along the road will lead you to the unique landscape. Walking a little further up, you can have good scenery of foliage. Maple forest starting under the Byeongpung rocks continues to gate of the hike way. It is magnificent.
Another joy of Jeju trip. If you have a plan to go to Mt.Halla, do not miss autumn foliage in Youngsil.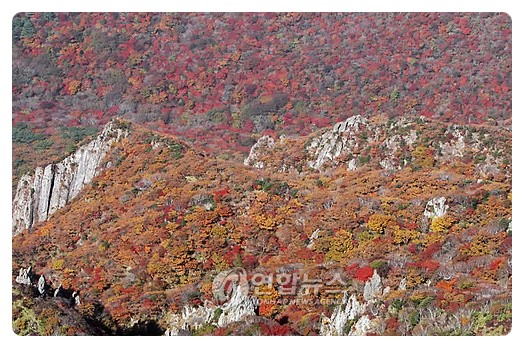 (Source: Yonhap News)
How was the journey? Autumn is right at the corner. Shall we take a walk and breathe in the forest of autumn foliage?