Article picked from http://blog.daum.net/korea_brand/1424
Learning Strong Wisdom of Sea Women in Jeju Island
Ocean of Jeju island has Mt.Halla and hundreds of parasitic volcanoes. In addition, the ocean has sea women who represent strength. Sea women are the past and future of Jeju island. Ocean is their life and they have struggled over hundreds of years. Let's learn who they are.
Catch A Glimpse of History and Footstep of Sea Women
Sea women may be only in Korea and Japan. Most of Korean sea women live in Jeju island, estimated about 20,000. We assume that the origin of sea women started at prehistoric era when human sought their food in the sea, considering that the shrine for fishermen and sea women existed from ancient times. But most of all, Jeju island is believed to be a birthplace of sea women.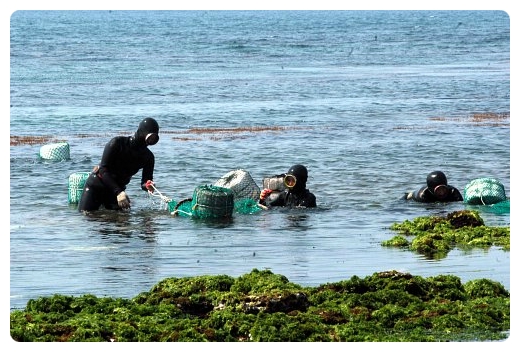 (Source: Local Segye Shinmun)
Jeju women have been destined to swim in the sea unless they did not farm in the field. Girls started to swim at the age of seven and eight. When they were seventeen and eighteen they became sea women. Their prime time last until 40.
They usually work five meters under the sea for 30 seconds but if necessary, they dive 20 meters and endure for two minutes under the sea. Whenever they come up to the surface, they breathe out deeply. In addition, they join community gathering and organizing sea women's club or diver's club. By these activities they decide diving time, diving manner and joint collection and carry out on their own. They contribute to prosperity of villages by joint raise and joint collection of sea food.
They dive 20 meters under the sea and endure two minutes long and swim in the cold winter. They have extraordinary skill and spirit. They dive even after giving a birth. There is a folk song, 'Song of Sea women', showing determination of sea women of Jeju island.
Meet Sea Women in a Variety of Way
It's not easy to see them even though we often heard that they have strong spirit and wisdom. Fortunately, the Jeju city government hosts a festival and opens a museum to promote sea women. The festival started first at 2002 world cup season. There are a variety of programs showing a myth of Jeju, life of sea women and life of fishing village. During the festival, many events are presented such as photo gallery painting contest, food court, and fireworks in order to promote sea women.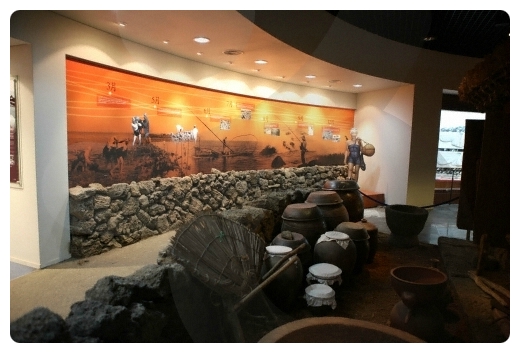 (Source: Korea Tourism Organization)
Sea women museum displays the history and work of sea women and the tools of collecting sea food. Four story museums have three exhibit rooms, video room, observatory, and children hall. The first exhibit room reproduces sea women's house, fishing village, shamanism and seasonal customs. The second exhibit room is made of workplace of sea women. The third exhibit room has fishery of ancient times, sea of hope for better understanding of fishing village and culture. Museum is the place for children education.
Movement to Preserve Sea Woman
Sea women would disappear if the seniors stop diving. Jeju University and other Korean research centers claim that sea women should be designated as the living culture heritage. Central government and local government need to work hard on the matter.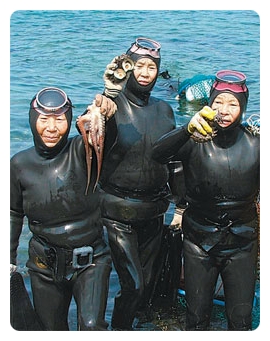 (Source:Donga Ilbo)

Jeju sea women are very rare so city government is trying to list them as the world cultural heritage. Because they are the only one who collects the sea food without any tools. Sea women can be world class culture asset if we preserve them well.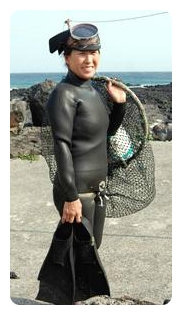 (Source: Seoul Shinmun>
Sea women became the representative brand of Jeju island. Their frontier spirit and diligence became known outside the world. Their image swimming in the sea is a present to modern people. They awaken frontier spirit and wisdom. They could disappear as they get older in the future. We hope that their spirits continue to be preserved. Through the centuries of history, sea women have struggled to survive in the ocean. It is necessary to preserve their spirit and promote sea women as world brand.