The milky, off-white color….the deep, slightly bitter, mouth-watering taste…and the sweet finishing flavor….

Guess what it is?
Yes, indeed, we are talking about "makgeolli" here, one of Korea's representative traditional alcoholic beverages.

In line with the recent makgeolli boom, the first web site devoted solely to makgeolli (http://www.jurojuro.com) has been launched by the Ministry of Food, Agriculture, Forestry and Fisheries and the Korea Rice Foodstuffs Association.

"Juro" here refers to the journey of finding makgeolli and other tasty food along the road. It can also mean the longish table for placing liquor glasses, and by extension, the talk, laughter, and mingling among people taking place over a bowl of makgeolli.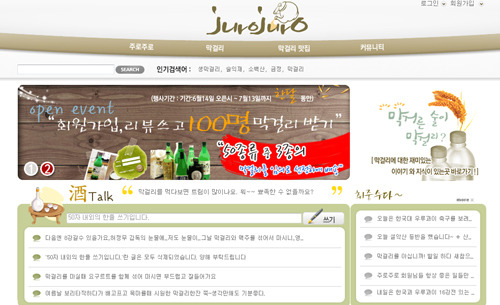 http://www.jurojuro.com>


According to the Ministry of Food, this year's makgeolli market is estimated to be around USD 550 million worth of scale. And 60% of the market nation-wide is dominated by a handful of major makgeolli manufactures, while for the capital region, as much as 70% is taken up by them.

The fact is that smaller, lesser-known, local makgeolli companies are losing ground in the competition with the giant companies. In case of Gyeonggi-do area, for instance, all 40 companies but for mere two or three are facing a drop in sales ever since the makgeolli boom.

So the Ministry of Food decided to open the above-mentioned web site to introduce and promote small and medium-sized makgeolli manufacturers that each have their own distinct color and flavor.

The web site's two main themes are makgeolli and makgeolli side-dishes. There is a "Navigation" section where you can search for various types of makgeolli either according to its region or characteristics, as well as view customer reviews and experts analyses. There is also the "Liquor Talk" section where the visitors of the web site engage in free chats.

But I'd say the highlight of the site is the "makgeolli side-dishes" page, which introduces places that have the best dishes to go with makgeolli. Just by looking at the pictures of all kinds of "anjoo (dishes served with liquor)," your mouth will start watering!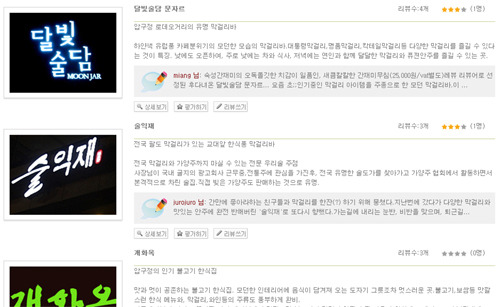 There are around 700 makgeolli manufacturers throughout Korea, and as in the case of wine, each region boasts its own distinct flavor. On the web site, you can search for specific kinds of makgeolli that you want – whether it's live makgeolli or sterilized makgeolli, or whether it's made with Korean rice, exported rice, or flour etc. So you can pick and choose a makgeolli that just suits your taste.


Drinking makgeolli the right way?

Makgeolli tastes best when you stir it. Some people wait a while after pouring the liquor and just sip at the clear upper layer, saying it tastes crisp and clean that way, but then you're missing out on the very gist of makgeolli. All the healthy parts – the yeast, lactic-acid bacteria, vitamin, fiber etc – are found in the sediment part that sinks to the bottom of your makgeolli bowl. So don't forget to stir it!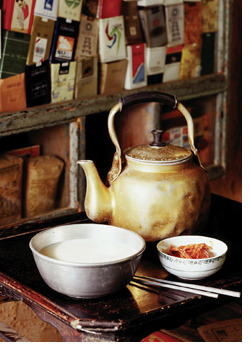 The whiter makgeolli, the better?

Nope, that's not true. The difference in color comes from different varieties of yeast. The Japanese-style rice yeast is closer to white in color, while wheat yeast, which is made in a typical Korean style, is somewhat yellowish in color. Rice yeast gives out a clear, simple taste and wheat yeast a richer and heavier taste. The choice is up to you.

Another tip: Sterilized makgeolli was made to enjoy the scent so it is best to keep it at around 5–10 degrees Celsius. In contrast, draught (live) makgeolli is made to savor the refreshing feeling of a carbonated drink, and so needs to be kept around 0–5 degrees Celsius.
Side dishes that go especially well with makgeolli? Among hundreds, I'd go for "jeon (Korean pancakes)" and "jokbal (pig's feet)"!





The recent makgeolli boom is also in keeping with the Korean government's efforts to globalize hansik (Korean cuisine) as well as to increase rice consumption.

And I hope the newly launched web site "www.jurojuro.com" plays its part as a tool to spread makgeolli culture to people both at home and abroad!