Downsides of driving a car?
Yes, there is the price of gas that never seems to skyrocket.
But on a bigger scale, there are more fundamentally worrisome issues: Climate change and the drainage of natural resources, especially the fossil fuels.
In respond to this environmental crisis, the international community has been taking actions. One of the measures widely initiated by the countries worldwide is reduction of carbon emissions. And naturally, the automobile industry is tightly linked with that.
Ever heard of environment-friendly electric vehicles (EV)?
Among the possible future environment-friendly vehicles, electric vehicles are taking the central stage. Many countries in the forefront of the automobile industry, including the U.S. and Japan, not to mention European countries, have declared their resolutions to manufacture 1 million electric vehicles.
Since electric vehicles run on electric batteries and motors instead of the traditional fossil fuels, they are drawing particular attention and interest nowadays that the regulations on exhaust emissions are becoming increasingly strict.
And Korea is not an exception in this "green growth" trend.
Beginning this November, the Seoul Metropolitan Government will begin the operation of 15 environment-friendly electric buses which emit absolutely no air pollution. At the moment the buses are having pilot runs since last June 21 in the Namsan circular route.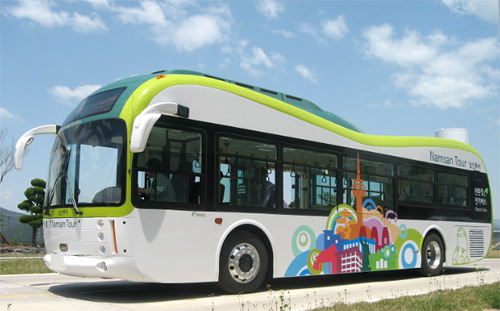 Electric buses run purely on electricity. Since they have no gas exhaust outlet, they do not emit fine dust particles, smoke, or other air pollution agents, nor do they discharge greenhouse gases such as carbon dioxide like diesel buses. They don't even emit heat and gaseous particles that are emitted by CNG (compressed natural gas) buses. So no doubt they are considered as an environment-friendly means of public transportation for the future. And they are expected to create more pleasant road and living environment conditions.

How are their functions?

The new electric buses boast the world's best recharging capabilities, taking only 20 minutes to recharge. The high capacity batteries enable the buses to run for 120 km after recharging once and reach a maximum speed of 100km/h. The main components of the electric buses such as the battery, motor, inverter etc. were all developed using Korean technology.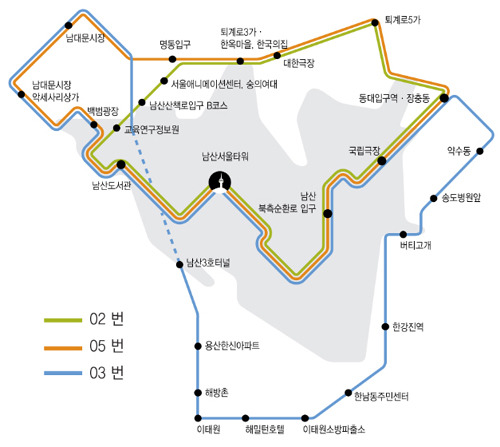 <15>


The 15 buses will begin operating in the Namsan circular route – one of the more challenging routes in downtown Seoul and an area frequented by tourists. The new buses will be yet another attraction in one of Seoul's main hot spots, Namsan. The exterior of the buses were designed to blend with Namsan's scenic natural environment. Also, different designs such as Haechi, Seoul's official color, and the Seoul logo, give the buses a "Seoul identity."

The Seoul Metropolitan Government will start expanding the operation of these buses starting next year so that 3,800 buses – or the equivalent of half of Seoul's bus fleet – will be electric buses by 2020. The remaining buses will be replaced by hybrid buses, thus completing the green revolution of Seoul's public transportation system.

If Seoul meets its goal by 2020, even when considering greenhouse gases emitted by the power plant producing electricity, more than 40 tons of greenhouse gases can be reduced per bus in a year, adding up to 140,000 tons every year by 2020. Also, 800 tons of nitrogen oxide and 350 tons of hydrocarbons emitted every year in the city will no longer be emitted.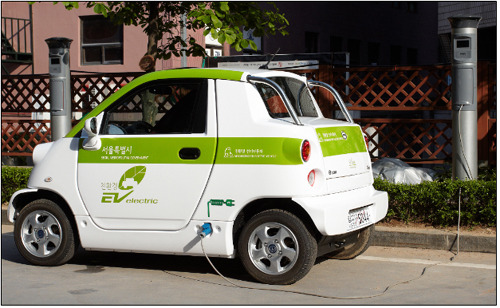 By 2020, half of Seoul's buses will be replaced by environment-friendly electric vehicles. And Seoul plans to build an electric car recharging infrastructure that is unparalleled by other cities to ensure the effective supply of electric vehicles.